3-Roll Plate Bending Machine correct use and proper maintenance can extend the using life. What's more, it will reduce the cost of repairs.
Three Roller Plate Bending Machine Safety and Maintenance
The operator should know clearly of rollingmachine structure, performance, controller operation and different work piece rolling process. In addition, strictly follow all safety matters.
Before starting or stopping steel rollers, all buttons of control system should be to the original position.
Check each lubrication point regularly. Make sure enough lubricant supply.
During 3-roll plate bending machine operation: if found irregular noise, shock, vibration or leakage, you should immediately stop and check.
Check each transmission structure and joints regularly. Keep no loosening and no damage.
It is not allowed without producing flat welds, without leveling the steel material rolled directly on the bending roll.
When inserted into the machinery, the steel sheet must be perpendicular to the roller centerline.
In the rolling process, the bottom roller and upper roller not allowed operated at the same time.
Wuxi Shearchy invest in factories for hydraulic iron worker, hydraulic press brake, swing beam shearing Machine, hydraulic guillotine shears, 3 or 4 roll plate bendingmachine… We specialized in dealing with sheet metal machine tools and accessories for many years. Our main markets are in Europe and North American. Such as Germany, Italy, France, Spain, Belgium, Greece, USA, Canada, etc.
Steel Metal Rolling Machine Maintenance
The main points of sheet metal roller maintenance: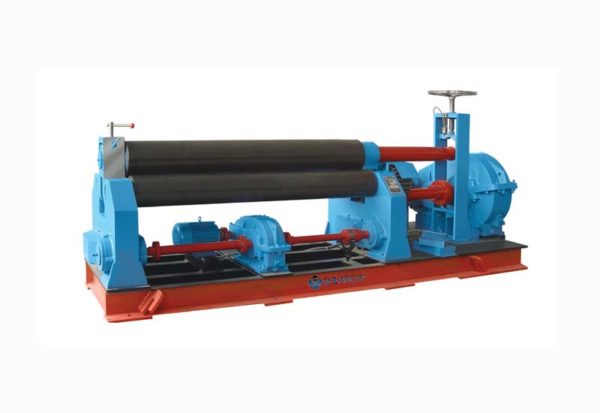 Steel sheet roll machine must work under normal operation and regular lubrication. Strict implementation of the lubrication system.
Formulate regular inspection and repair system.
All wearing parts appear excessive wear or lose their original properties should be replaced, if damaged parts need repairing.
Pay attention to the temperature of 3-roll plate bending machine each parts.
The electrical system should properly grounded. Also, the electrical components should be regular maintenance, removal, timely replacement of damaged, failure of components.
Also, not allowed anything piled up in the working area, oxide coating should be promptly cleaned.