Description
Quick Details
Condition: 

New                                  Brand Name:  Shearchy                                  Machine Type:  Guillotine shear
Raw Material:

Steel plate                  Warranty: 13 months                                       Certification: ISO, SGS, CE
After-sales Service Provided:

Engineers available to service machinery overseas

---

EUROCUT CNC Guillotine Shear Product Description
The second generation of hydraulic guillotine shear.
Welded steel plate construction, eliminate internal stress by heat treatment, with high strength and good rigidity.
Advanced integrated hydraulic system with an excellent reliability.
The rolling guide with 3-point support and improves the shearing quality.
Rapidly, accurately and conveniently adjusting the blade clearance with the hand wheel.
The rectangular blades featuring long lifetime with 4 cutting edges.
As the cutting beam has been designed in inner-inclined structure, it is easy for plates to fall down and the accuracy of products can also be guaranteed.
---
EUROCUT CNC Guillotine Shear Configuration:
Standard electrics from Schneider,France.
Standard valves and oil pump from Bosch Rexroth Germany.
Standard main motror from Siemens Germany
Hydraulic and electrical overload protection
Light guards ensure the safety of operators during operation
---
EUROCUT CNC Guillotine Shear Controller:
Standard controller: E21S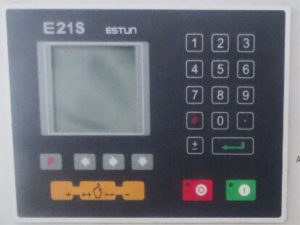 Backgauge control.
Control for general AC motors,frequency inverted.
X-axis intelligent positioning.
Double programmable digital output.
Stock counter.
Program memory for up to 40 steps,up to 25 steps per program.
One side positioning.
Retract function.
One key backup/restore of parameters.
Units:Mm/inch.
Language:Chinese/English.
---
Optional: ELGO P40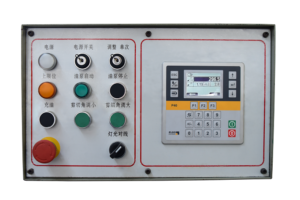 Convenient operation, easily to input the target value: cutting angle, blade clearance, cutting strokes and parts counting. Each axis target value, current value and pieces can be displayed on screen. These encoders input running in analog mode.
Back gauge can be programmed.
Manual fine adjustment operation.
Single running.
Program memory can control 1000 program sentence.
---
EUROCUT CNC Guillotine Shear Technical Data
| | | | | | | | | | |
| --- | --- | --- | --- | --- | --- | --- | --- | --- | --- |
| Model | Cutting thickness(450Mpa) | Cutting length(mm) | Throat Depth (mm) | Back gauge stroke(mm) | Cutting angle | Stroke frequency (Times/min) | Main Motor (Kw) | Gross weight(ton) | Overall Dimensions LxWxH (mm) |
| 4×2000 | 4 | 2000 | 80 | 600 | 0.5°-2° | 14 | 5.5 | 3.8 | 2600x1680x1750 |
| 4×2500 | 4 | 2500 | 80 | 600 | 0.5°-2° | 14 | 5.5 | 4.2 | 3125x1750x1765 |
| 6×2500 | 6 | 2500 | 80 | 750 | 0.5°-2.5 | 14 | 7.5 | 4.8 | 3150x1840x1960 |
| 6×3100 | 6 | 3100 | 80 | 750 | 0.5°-2.5 | 12 | 7.5 | 6.8 | 3850x1840x1995 |
| 6×4000 | 6 | 4000 | 80 | 750 | 0.5°-2.5 | 10 | 7.5 | 8.8 | 4650x1840x2100 |
| 6×5000 | 6 | 5000 | 80 | 750 | 0.5°-2.5 | 8 | 7.5 | 13.5 | 5650x2050x2400 |
| 6×6000 | 6 | 6000 | 80 | 750 | 0.5°-2.5 | 8 | 7.5 | 16.5 | 6650x1980x2380 |
| 8×2500 | 8 | 2500 | 80 | 750 | 0.5°-2.5 | 14 | 7.5 | 6 | 3135x1840x2075 |
| 8×3100 | 8 | 3100 | 80 | 750 | 0.5°-2.5 | 12 | 7.5 | 7 | 3850x1990x2050 |
| 8×4000 | 8 | 4000 | 80 | 750 | 0.5°-2.5 | 10 | 7.5 | 9.5 | 4650x1890x2075 |
| 8×5000 | 8 | 5000 | 80 | 750 | 0.5°-2.5 | 7 | 15 | 16 | 5650x2050x2400 |
| 8×6000 | 8 | 6000 | 100 | 750 | 0.5°-2.5 | 7 | 15 | 21 | 6805x2115x2715 |
| 10×2500 | 10 | 2500 | 100 | 750 | 0.5°-3° | 10 | 15 | 8.1 | 3195x1915x2205 |
| 10×3100 | 10 | 3100 | 100 | 750 | 0.5°-3° | 8 | 15 | 9.2 | 3895x1900x2235 |
| 10×4000 | 10 | 4000 | 100 | 750 | 0.5°-3° | 6 | 15 | 13 | 4695x1970x2450 |
| 10×5000 | 10 | 5000 | 100 | 750 | 0.5°-3° | 5 | 15 | 20 | 5700x2115x2715 |
| 10×6000 | 10 | 6000 | 100 | 750 | 0.5°-3° | 5 | 15 | 25 | 6905x2115x2800 |
| 12×2500 | 12 | 2500 | 100 | 750 | 0.5°-3° | 10 | 15 | 8.8 | 3195x2000x2210 |
| 12×3100 | 12 | 3100 | 100 | 750 | 0.5°-3° | 8 | 15 | 10 | 3895x1950x2240 |
| 12×4000 | 12 | 4000 | 100 | 750 | 0.5°-3° | 6 | 15 | 14 | 4710x1950x2485 |
| 12×5000 | 12 | 5000 | 100 | 750 | 0.5°-3° | 5 | 30 | 22 | 5750x2115x2800 |
| 12×6000 | 12 | 6000 | 100 | 750 | 0.5°-3° | 5 | 30 | 30 | 7150x2300x3100 |
| 16×2500 | 16 | 2500 | 100 | 750 | 0.5°-3° | 8 | 15 | 9.5 | 3215x1970x2340 |
| 16×3100 | 16 | 3100 | 100 | 750 | 0.5°-3° | 7 | 15 | 12 | 3915x1970x2455 |
| 16×4000 | 16 | 4000 | 100 | 750 | 0.5°-3° | 6 | 15 | 16.5 | 4715x2010x2590 |
| 16×5000 | 16 | 5000 | 100 | 750 | 0.5°-3° | 5 | 22 | 25 | 6000x2300x3000 |
| 16×6000 | 16 | 6000 | 100 | 750 | 0.5°-3° | 5 | 37 | 28 | 7250x2400x3100 |
| 20×2500 | 20 | 2500 | 100 | 750 | 0.5°-3.5° | 6 | 22 | 12.5 | 3235x2020x2465 |
| 20×3100 | 20 | 3100 | 120 | 750 | 0.5°-3.5° | 5 | 30 | 18 | 4150x2065x2755 |
| 20×4000 | 20 | 4000 | 120 | 750 | 0.5°-3.5° | 4 | 30 | 23 | 4955x2125x2885 |
| 20×5000 | 20 | 5000 | 120 | 750 | 0.5°-3.5° | 4 | 37 | 29 | 6000x2300x3050 |
| 20×6000 | 20 | 6000 | 120 | 750 | 0.5°-3.5° | 5 | 37 | 43 | 7150x2450x3280 |
| 25×2500 | 25 | 2500 | 120 | 750 | 0.5°-3.5° | 5 | 37 | 16 | 3465x2130x2710 |
| 25×3100 | 25 | 3100 | 120 | 750 | 0.5°-3.5° | 5 | 37 | 23 | 4120x2200x3000 |
| 25×4000 | 25 | 4000 | 120 | 750 | 0.5°-3.5° | 4 | 37 | 28 | 4950x2200x3150 |
| 30×2500 | 30 | 2500 | 120 | 750 | 0.5°-4° | 4 | 37 | 18 | 3465x2170x2770 |
| 30×3100 | 30 | 3100 | 120 | 750 | 1°-4° | 3 | 37 | 25 | 4200x2300x3200 |
| 40×2500 | 40 | 2500 | 80 | 750 | 1.5°-4° | 4 | 37×2 | 32 | 3770x2550x3400 |
| 40×3100 | 40 | 3100 | 80 | 750 | 1.5°-4° | 3 | 37×2 | 38 | 4300x3100x3600 |
| 40×4000 | 40 | 4000 | 80 | 1000 | 1.5°-4° | 3 | 45×2 | 46 | 5200x3200x3800 |