Description
Quick Details
Condition: 

New                                  Brand Name:  Shearchy                                  Machine Type:  Swing beam shear
Raw Material:

Steel plate                  Warranty: 13 months                                       Certification: ISO, SGS, CE
After-sales Service Provided:

Engineers available to service machinery overseas

---

EASYCUT SWING BEAM SHEARS Product Description
The design meets EU international standards. Welding parts uses tempering, vibration and other processing methods to eliminate stress ensuring the structural strength and rigidity of each component;All machines are designed using SOLID WORKS 3D programming and made with enhanced ST44-1 quality steel with the latest technology.
Backgauge is adjusted by high-precision ball screw and linear guide driven by E21S controller.
Ball screw and Linear guide structure, using  frequency converter positions X axis to ensure accuracy, unique designed timing transmission mechanism, stable and reliable.Rigid upper beam runs on 8-point bearings with bending precision of +/-0.01 mm.
Front safeguard rail adopts opening door cut off power,ensuring the operational safety.
Rapid adjustment mechanism for rearranging blade clearance, simple operation by hand and adjusting steplessly.
---
EASYCUT SWING BEAM SHEARS Configuration:
Standard electrics from Schneider,France.
Standard valves and oil pump from Bosch Rexroth Germany.
Standard main motror from Siemens Germany
Hydraulic and electrical overload protection
Light guards ensure the safety of operators during operation(optional)
---
EASYCUT SWING BEAM SHEARS Controller:
Standard controller: E21S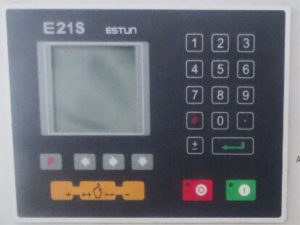 Backgauge control.
Control for general AC motors,frequency inverted.
X-axis intelligent positioning.
Double programmable digital output.
Stock counter.
Program memory for up to 40 steps,up to 25 steps per program.
One side positioning.
Retract function.
One key backup/restore of parameters.
Units:Mm/inch.
Language:Chinese/English
---
Technical Data
| | | | | | | |
| --- | --- | --- | --- | --- | --- | --- |
| Modeks | Mild Steel (450MPa) | Cutting Length (mm) | Back Gauge Range(mm) | Depth Of Thoat(mm) | Strokes Per Minute | Main Motor(KW) |
| 6×2500 | 6 | 2500 | 750 | 80 | 14 | 7.5 |
| 6×3200 | 6 | 3200 | 750 | 80 | 12 | 7.5 |
| 6×4000 | 6 | 4000 | 750 | 80 | 10 | 7.5 |
| 6×5000 | 6 | 5000 | 750 | 80 | 8 | 7.5 |
| 6×6000 | 6 | 6000 | 750 | 80 | 8 | 7.5 |
| 8×2500 | 8 | 2500 | 750 | 80 | 14 | 7.5 |
| 8×3200 | 8 | 3200 | 750 | 80 | 12 | 7.5 |
| 8×4000 | 8 | 4000 | 750 | 80 | 10 | 7.5 |
| 8×5000 | 8 | 5000 | 750 | 80 | 7 | 15 |
| 8×6000 | 8 | 6000 | 750 | 100 | 7 | 15 |
| 10×2500 | 10 | 2500 | 750 | 120 | 10 | 15 |
| 10×3200 | 10 | 3200 | 750 | 120 | 8 | 15 |
| 10×4000 | 10 | 4000 | 750 | 120 | 6 | 15 |
| 10×5000 | 10 | 5000 | 750 | 120 | 5 | 15 |
| 10×6000 | 10 | 6000 | 750 | 120 | 5 | 15 |
| 12×2500 | 12 | 2500 | 750 | 120 | 10 | 15 |
| 12×3200 | 12 | 3200 | 750 | 120 | 8 | 15 |
| 12×4000 | 12 | 4000 | 750 | 120 | 6 | 15 |
| 12×5000 | 12 | 5000 | 750 | 120 | 5 | 18.5 |
| 12×6000 | 12 | 6000 | 750 | 120 | 4 | 18.5 |