WUXI SHEARCHY is making great efforts to provide you with precise and durable machine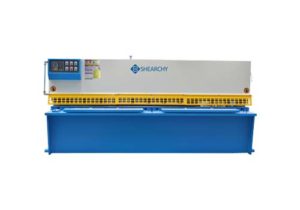 As one of professional suppliers of plate shearing machine in China, WUXI SHEARCHY is making great efforts to provide you with precise and durable machine. SHEARCHY has devoted to supplying and selling high-precision, high-efficiency, energy-saving, high-security machines.
Several factors judged before selecting plate shearing machine
Shearing machines use in many metal processing and materials machining. Several factors must judge before selecting shearing machine. It includes type of shears, required shearing ability, productivity enhancement selection and safety. The type of shearing machine is determined by many factors, such as the length, thickness and type of material that the machine can handle. The shearing machine can be subdivided according to the shearing form and its drive system. There are two kinds of structure forms commonly, used in electric gantry shears: guillotine type (also called sliding block type) and swing type.
One factor to consider when evaluating plate shearing machine is the amount of shearing capacity required for specified processing. The specification data of sheet shearing machine almost all take low carbon steel and stainless steel as shear object. In order to compare the sheet shears requirements of the metal processing plant with these data, must check the material specifications of the plant according to the capacity of the sheet shears.
Also, many users rely on the quality of the key parts of the plate shearing machine. And whether the machine can increase productivity to choose suitable shearing machine. Increasing productivity can take many forms: save manpower, improve material flow, improve accuracy, improve incision quality and avoids ancillary operations. But above all, the most important thing is to enhance security. All metal working machines must  operate safely and correctly by trained personnel. Shearing machine is no exception. As a potentially dangerous machine, shearing machine must use and operate strictly according to regulations.
Besides that, the basic operation of the shearing machine cannot change: the upper blade cuts the metal through the lower blade. However, maintaining a safe operating environment and adding effective related equipment with various productivity accessories can make operation safer and more productive.
WUXI SHEARCHY Technology Company is a China high-precision CNC Sheet Metal Machinery supplier. We supply all series sheet metal processing equipment and manufacturing solutions. If you particularly interest in, you can choose from EASYCUT NC SWING BEAN SHEAR and EUROCUT CNC GUILLOTINE SHEARS. We warmly welcome you to visit our website for more products information!