Description
Quick Details
Condition: 

New                                                                                                                 Brand Name: Shearchy                                     Machine Type:  4 Roller Plate Bending Rolls

Raw Material:

Steel plate                                                                                                 Power: Hydraulic                                                Certification: ISO, SGS, CE

After-sales Service Provided: 

Engineers available to service machinery oversea                                                                             Warranty: 13 months
---

Product Description – 4 Roller Plate Bending Rolls
Shearchy 4 roller bend rolling machine is the general equipment used for bending/rolling plates. Pre-bending and bending can be completed on the machine without U-turn. Plates can be bended to be tubular, arc or even cone-shaped work pieces with supplemental device. The machine is optimal equipment with four rollers to bend metal plates.
The upper roller is main drive roller, bottom roller and two side rollers make vertical movement to tighten the plate.
Vertical movement close to upper roller adjust circle radius.
Small straight edge of pre-bending.
High rolling precision.
 Roll taper workpiece with full generatrix.
 Rollers moving position control by computer.
 Highest rolling efficiency and capacity.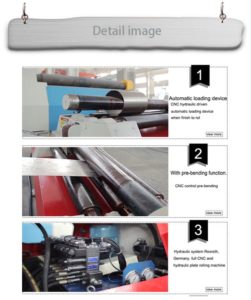 ---
Configuration- 4 Roller Plate Bending Rolls:
Main low-voltage electric elements:SCHNEIDER/ OMRON
Programmable controller PLC:Japanese Mitsubish
Touch screen(LCD):Taiwan HITECH
Airtight grating:Made in China
Rollers:Material 42CrMo precision forging
Tempered on HB270~300
Cylinder:No.45 Steel tempered, boring inner hole,Rolling press and grinded
Piston rod:No.45 Steel tempered, plating nickel and phosphor outside.
Main seal of oil cylinder:Japanese NOK
Motors:Siemens
Hydraulic system: Rexroth,Germany.
---
Technical Data – 4 Roller Plate Bending Rolls
Model
Useful   length(mm)
Min.diameter=top   roller φx5
Min.diameter=Top roller φx5(1.5-2)
Top roller dia   (mm)
Bottom roller   dia (mm)
Sideroller dia   (mm)
Main
Motor
(KW)
Rolling Speed   (m/min)
Overall   dimension L*W*H (mm)
Wight(ton)
Without
prebend
With
prebend
Without
prebend
With
prebend
W12-12×2000
2000
12
9
6
220
220
160
7.5
3-5
4500x1500x1400
5
W12-16×2000
2000
16
12
8
260
240
200
11
3-5
4100x1700x1800
6.7
W12-20×2000
2000
20
16
12
280
260
220
18.5
3-5
4600x1950x1900
9.6
W12-25×2000
2000
25
20
16
310
290
250
22
3-5
4800x2000x2000
11.3
W12-30×2000
2000
30
25
20
360
330
270
30
3-5
5100x2100x2000
13
W12-8×2500
2500
8
6
4
220
200
160
7.5
3-5
5000x1500x1400
6
W12-12×2500
2500
12
9
6
250
230
180
11
3-5
5100x1500x1400
7.1
W12-16×2500
2500
16
12
8
280
260
220
15
3-5
5100x1950x1900
10.2
W12-20×2500
2500
20
16
12
330
310
250
22
3-5
5300x2000x2000
12
W12-25×2500
2500
25
20
16
360
330
270
30
3-5
5600x2100x2000
15
W12-30×2500
2500
30
25
20
390
360
290
37
3-5
5600x2250x2100
18
W12-40×2500
2500
40
35
30
470
440
380
45
3-5
6100x2550x2700
25.5
W12-50×2500
2500
50
40
35
510
480
410
55
3-5
6100x3100x2700
36
W12-60×2500
2500
60
50
40
560
530
450
75
3-5
6500x3200x3000
48
W12-6×3000
3000
6
5
4
220
200
160
7.5
3-5
5500x1500x1400
7
W12-8×3000
3000
8
6.5
5
250
230
180
11
3-5
5600x1500x1400
9
W12-12×3000
3000
12
9
6
280
260
220
15
3-5
5700x1950x1900
12
W12-16×3000
3000
16
12
8
330
310
250
22
3-5
2900x2000x2000
14
W12-20×3000
3000
20
16
12
360
330
270
30
3-5
6100x2150x2000
17
W12-25×3000
3000
25
20
16
390
360
290
37
3-5
6100x2250x2100
20
W12-30×3000
3000
30
25
20
410
380
320
45
3-5
6300x2500x2400
23
W12-35×3000
3000
35
30
25
470
440
380
45
3-5
6600x2550x2700
28
W12-40×3000
3000
40
35
30
510
480
410
55
3-5
6600x2600x2750
39
W12-50×3000
3000
50
40
35
560
530
450
66
3-5
6600x3200x3000
51
W12-60×3000
3000
60
50
40
650
620
520
75
3-5
7000x3300x3400
74
W12-70×3000
3000
70
60
50
700
670
550
90
3-5
7200x3500x3600
89