3 Roll Plate Roller Machine has compact structure, convenient operation and maintenance, which is suitable for bending deformation of metal sheets. So, it can roll round, arc and conical work pieces in a certain range. It also has pre-bending function at the end of the plate.
Deep Secret Revealing Three-roll Bending Machine
Briefly, 3 Roll Plate Roller is sheet metal rolling equipment with three rolls. Also, it is with a fixed top roll and two side rolls swing up for plate pre-bending and rolling.
Firstly, three rolls rolling machine has different types. Then, according to the structure and system, we can divide them into:
Mechanical Symmetry Three-roller Bending Roll
Mechanical Level-down Three-roller Bending Roller
Asymmetry 3- Roller Bending Rolls
Upper Roller Universal Three-roller Bending Roll
3-Roller Symmetry Bending Roll for Shipbuilding…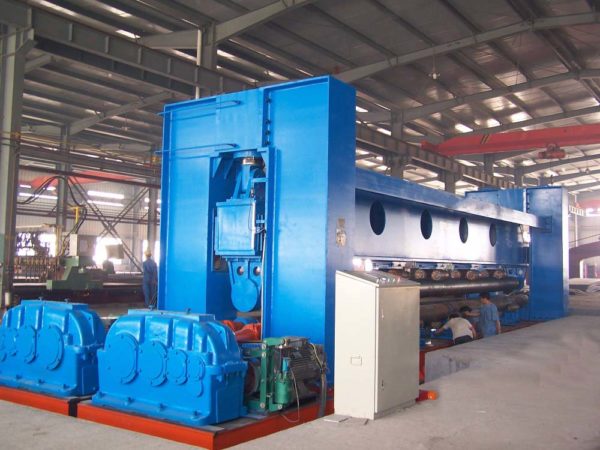 Because of simple structure, reliable operation and easy maintenance, it is widely use in the manufacture of medium-sized sheet metal cylinder parts.
It can bend roll sheet metals from 6mm to 100mm thickness. With less cost than 4-roll plate roller, 3-roll plate roller machine is an ideal choice for limited production cost.
The rated parameters specified in the basic parameter table refer to the maximum working capacity of the machine under reasonable operating conditions. Only by operating according to the requirements and parameters can enterprises have better economic benefits. If the width, yield limit and outer diameter of the cylinder work piece become longer, the thickness of the plate can increase or decrease.
Reasonable lubrication of transmission shafts and hydrodynamic sliding surfaces is an effective measure to reduce power consumption and improve machine life. Therefore, we must choose reasonable lubricants and establish the necessary lubrication mechanism.
Selection of Lubricating Oil for Plate Bending Rolls
From the most professional point of view, different components, parts and different working environment, we have to choose different hydraulic oils. Moreover, for specific questions, you can consult our team of professional engineers.
Lubrication Regulations and Tips
Users should establish specific lubrication system according to the working system, load and operation of the rolling machine.
Before starting, the lubrication points must be adequately lubricated.
Under continuous working conditions, we usually supply oil cups and artificial lubrication once every two hours. The specific lubrication work should be according to the working system and load operation of the machine.
The lubricating oil in the reducer box usually replace once a month. No more than six months.
Please clean the lubrication system once a year.

3 Roll Plate Roller Machine Lubrication Modes
According to the working conditions, we can use oil cup lubrication, artificial refueling and box lubrication. The working rollers, lifting screw rods and transmission shafts are lubricated by oil cups. Gears, worm gears, movable bearings and screw rods of warping adjusting mechanism are periodic artificial refueling. The lubrication of gears and bearings in reducer is splashing oil in the tank.
Shearchy is professional metalworking forming machinery supplier. Welcome to contact us with your demands!