Description
Quick Details
Condition: 

New                                  Brand Name:  Shearchy                                  Machine Type:  Press Brake
Raw Material:

Steel plate                  Power: Hydraulic                                               Certification: ISO, SGS, CE
After-sales Service Provided:

Engineers available to service machinery overseas

---

EuroBend CNC press brake Product Description
Whole steel welding structure,holistic processed with CNC equipments,vibrting to eliminate stress,with high strenth and good rigidity.Hydraulic upper drove type,with high stability
Elctro-hydro ratio servo synchronization,control arbitrary point within stoke,repeating accuracy at +/0.1,Parallelism at+/0.02.
Use delem cnc system from Holland,together with light scae and hydraulic valve assembiy&imported servo motor,with low maintenance.
High Anti-deviation ability,with ram stoke(Y1,Y2)and back gauge(X,R,Z)controlled by computer.
 Back gauge applies ball screw,linear guide way,with high accuracy.
Adopting reliable electro-hydraulic electro-hydraulic proportional synchronization servo and its parallelism precision could reach 0.01mm. it can support eccectric load.
The machine enjoys high accuracy and high strength and good rigidity.
---
EuroBend CNC press brake CONFIGURATION: 
Main electronic elements: Schneider;
ABB; electronic box will power off when open the door;
Seals: NOK, made in Japan;
Hydraulic Rexroth valves;
Ferrule connection ;
Gear pump : made in China;
 The standard tooling;
Back gauge: ball screw, belt drives
---
EuroBend CNC press brake Controller:
Standard controller: E21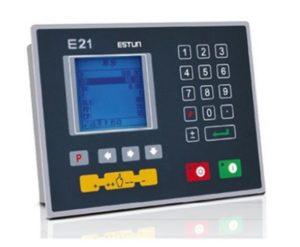 Back gauge and block control
Control for general AC motors,frequency inverted
Intelligent positioning
Holding/decompression time setting
Program memory of up to 40 programs Up to 25 steps per program
One side positioning
Retract function One key backup/restore of parameters
---
Optional controller: ESA S530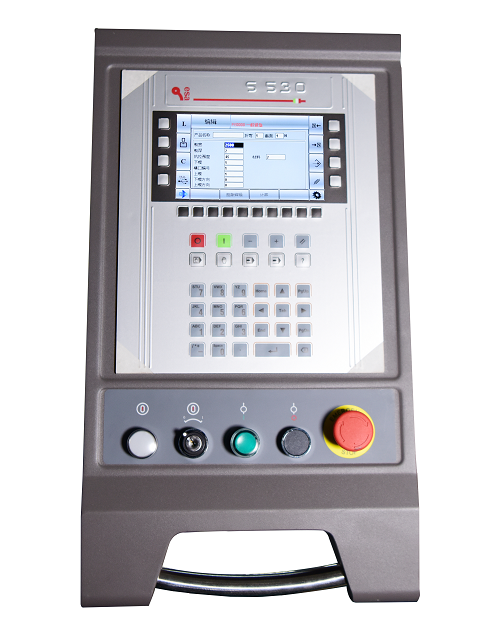 Real-time automatic checking of the filling form programming mode, automatic calculation of bending and compensating force.
2D graphics edit upper and lower die.
2D graphic preview artifact (if the artifact is edited via graphics)
2D graphics programming (optional)
Automatic calculation of bending process (optional).
Manual bending items (single step bending, no program interrupt).
All programs, molds, parameters can be stored in the native memory or USB drive, which can be uploaded to other CNC or PC on the USB drive.
---
Optional controller: DA 52S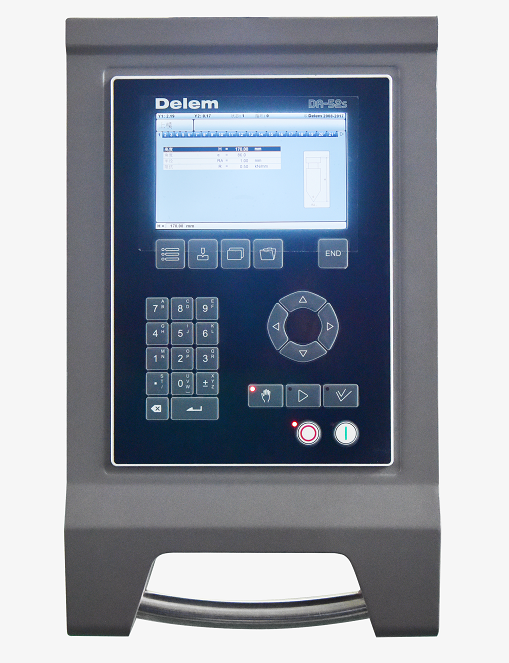 DA52S controller is designed for electro-hydraulic synchronous bending machine.
 6 inch screen.
For 3+1 axis use and can up to 4+1 axis.
Parameter Programmable.
---
EuroBend CNC press brake Technical Data
| | | | | | | | | |
| --- | --- | --- | --- | --- | --- | --- | --- | --- |
| Model | Nomial Pressure(kN) | Length of Table (mm) | Distance between Housings(mm) | Throat Depth (mm) | Stroke (mm) | Open Height (mm) | Main Motor (Kw) | Overall Dimensions LxWxH (mm) |
| WEK-63/2500 | 630 | 2500 | 2000 | 320 | 160 | 400 | 5.5 | 3040x1640x2225 |
| WEK-63/3200 | 630 | 3200 | 2660 | 320 | 160 | 400 | 5.5 | 3710x1650x2450 |
| WEK-100/3200 | 1000 | 3200 | 2660 | 400 | 200 | 450 | 7.5 | 3720x1690x2475 |
| WEK-125/3200 | 1250 | 3200 | 2660 | 400 | 200 | 450 | 7.5 | 3740x1760x2535 |
| WEK-125/4000 | 1250 | 4000 | 3200 | 400 | 200 | 450 | 7.5 | 4520x1760x2610 |
| WEK-160/3200 | 1600 | 3200 | 2660 | 400 | 200 | 470 | 11 | 3760x1830x2620 |
| WEK-160/4000 | 1600 | 4000 | 3200 | 400 | 200 | 470 | 11 | 4540x1830x2720 |
| WEK-200/3200 | 2000 | 3200 | 2660 | 400 | 200 | 470 | 11 | 3760x1880x2670 |
| WEK-200/4000 | 2000 | 4000 | 3200 | 400 | 200 | 470 | 11 | 4540x1880x2770 |
| WEK-200/6000 | 2000 | 6000 | 4800 | 400 | 200 | 470 | 11 | 6080x1950x2900 |
| WEK-250/3200 | 2500 | 3200 | 2660 | 400 | 250 | 490 | 15 | 3780x1980x2860 |
| WEK-250/4000 | 2500 | 4000 | 3200 | 400 | 250 | 490 | 15 | 4560x1980x2960 |
| WEK-250/5000 | 2500 | 5000 | 4000 | 400 | 250 | 490 | 15 | 5080x2100x3250 |
| WEK-250/6000 | 2500 | 6000 | 4800 | 400 | 250 | 490 | 15 | 6080x2200x3400 |
| WEK-300/4000 | 3000 | 4000 | 3200 | 400 | 250 | 500 | 22 | 4580x2080x3090 |
| WEK-300/5000 | 3000 | 5000 | 4000 | 400 | 250 | 500 | 22 | 5100x2200x3300 |
| WEK-300/6000 | 3000 | 6000 | 4800 | 400 | 250 | 500 | 22 | 6600x2250x3500 |
| WEK-400/4000 | 4000 | 4000 | 3200 | 400 | 300 | 605 | 30 | 4580x2460x3600 |
| WEK-400/5000 | 4000 | 5000 | 4000 | 400 | 300 | 605 | 30 | 5600x2460x3750 |
| WEK-400/6000 | 4000 | 6000 | 4800 | 400 | 300 | 605 | 30 | 6200x2650x3800 |
| WEK-500/4000 | 5000 | 4000 | 3200 | 600 | 300 | 615 | 37 | 4200x2800x4100 |
| WEK-500/5000 | 5000 | 5000 | 4000 | 600 | 300 | 615 | 37 | 5200x2800x4200 |
| WEK-500/6000 | 5000 | 6000 | 4800 | 600 | 300 | 615 | 37 | 6200x2800x4600 |
| WEK-600/5000 | 6000 | 5000 | 4000 | 600 | 300 | 650 | 37 | 5200x3000x4700 |
| WEK-600/6000 | 6000 | 6000 | 4800 | 600 | 300 | 650 | 37 | 6200x3000x5400 |
| WEK-800/5000 | 8000 | 5000 | 4000 | 700 | 350 | 710 | 55 | 5200x3500x5600 |
| WEK-800/6000 | 8000 | 6000 | 4800 | 700 | 350 | 710 | 55 | 6200x3500x5800 |
| WEK-1000/6000 | 10000 | 6000 | 4800 | 700 | 350 | 730 | 55 | 6200x4100x6900 |