100Ton Press Brake Punch and Die consists of many parts. Therefore, we should pay special attention to the installation.
100 Ton CNC Press Brake Mold Installation and Debugging Methods
After bending die installed, the engineer has to do a lot of debugging. Generally, hydraulic press brake manufacturer SHEARCHY will install and adjust the bending machine mold in five steps.
How to Install and adjust CNC Hydraulic Press Brake Punch and Die?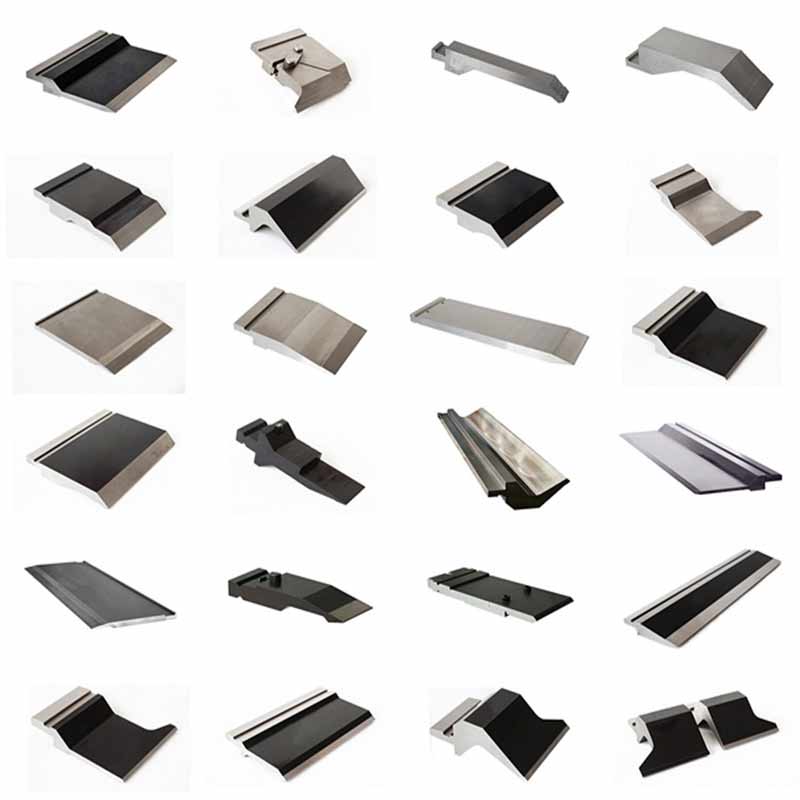 The basic adjustment of 100ton press brake before installation

Firstly, adjust the machine performance. This process must be patient and recognized.
Check whether brake press has dust, used iron chips, etc.
Carry out necessary cleaning to reduce later troubles.

Adjustment of slider stroke

Pay attention to the thickness of the mold. In addition, check whether the proportion of upper and lower modules is normal.
Normally, the user should control the module at the switch point of the travel line.
The adjustment of the travel module is to adjust the upper limit point of the module.
When the upper die reaches the highest position, set the switch.
Moreover, a stop position of the slide block is reserved. At the same time, you carry out the deceleration module in the down direction.
This can better protect the machine and bending machine mold.

Gap adjustment

It mainly measures the distance between the upper and the lower dies.
The specific gap setting determined according to the folded plate.

Angle adjustment

The adjustment of this angle has a certain relationship with the work piece processed.
Generally speaking, if the user uses 90 ° die to bend, the middle angle must be greater than the angle of both sides. The tightness of the die adjusted according to the adjusting screw.
When bending, the user can adjust the pressure through the pressure gauge to avoid die edge collapse.
The mould of 100ton press brakes divided into upper punch and lower die is for sheet metal stamping and separation. The above is the correct installation and debugging method of 100t CNC hydraulic bending machines.